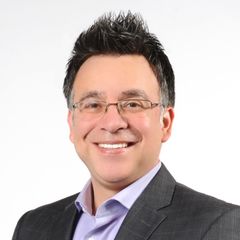 idragonflyblue
November 4, 2020.
Verified
Joey went above and beyond, way beyond, what any realtor would have provided. Even the best. His meticulousness, attention to detail and legalities, alongside his calm demeanor truly made the potential experience of a messy situation into a pleasant one. He worked miracles I didn't think possible and yet every time he made it happen. His honesty and straight forwardness provided me with enormous comfort during what could have been a nightmare. His communication skills are unparalleled when it comes to dealing with challenging people. In my case a family member who had a different vision. Joey skillfully navigated between the two of us with grace, diplomacy and honesty. One couldn't ask for a better person in a business dealing with large sums of money and the emotional sentimentalism. In this day and age, genuine kindness is a gift. Pairing that with his experience and ability is priceless. If I could, I would recommend Joey over and over. Truly I am grateful for what he did. Simply put, He is the best and a rare realtor.
Tina Cunningham
August 13, 2020.
Verified
Joey helped me sell two homes and buy one home in the span of 10 months. With each of the 3 transactions, he worked diligently to ensure we got top profit and the best deal. He even magically shows up on moving day to help us move and pack up the filthy garage. He responds to texts within seconds (even early morning and late at night) and has perfect follow through on inquiries and questions. I was touring homes when I had a broken foot and he even helped lift me up the flight of stairs. I also appreciated that he came to my home when we had meetings rather than going to his office. I recommend Joey's services to everyone I know. His gentle spirit, sense of humor, servant's heart and expertise in the field is everything you will need in a relator.
zuser20160818184223958
March 6, 2020.
Verified
When you try to envision the perfect home selling experience, it rarely works out that way. But our experience with Joey delivered this. His patience, guidance and knowledge painted the picture of the entire process and it happened as he laid it out. Incredible job and highly recommended.
Thomas Wenzel
March 5, 2020.
Verified
Awesome experience. Joey found the perfect house to meet our needs. By far the best real estate agent we have ever dealt with. He is on top of everything. Can't say enough positive things about our experience.
rbrown565
February 25, 2019.
Verified
Joey was excellent in helping us buy our first home. He answered all of our questions and was relentless in finding us a great home and as our mortgage broker, a great loan. He has an extensive bank of knowledge that ranged from neighborhood info to construction and repair costs and everything in between. Joey responded immediately to anything we needed, and was present in person for every step of the process — from home inspection to escrow and even to double check small repairs were done correctly. A true class act and we would recommend him to everyone.
Verified
My experience with Joey was as good as it can get. Joey helped me through every aspect in getting my home ready for rent and overseeing the management of my home during the time the tenant has first moved in. Joey has gone above and beyond to make renting home my home as easy as possible. Thank you Joey for everything you have done; i wouldn't of been able to do it without you.
mrs navarrete19
March 27, 2018.
Verified
Joey is so professional and knowledgeable in his field! He was/is very responsive to all emails, calls and text messages. He really made the entire experience easy and stress free. Very lucky to of met him and have him as our point of contact!
rballard5
March 26, 2018.
Verified
Joey listed and sold our home in Upland. Not only did we have an offer as a result of one open house, our home sold for over the asking price. This was a direct result of Joey's excellent marketing skills. He had a professional photographer take pictures of our home. Joey also kept in close contact with us during the escrow, and gave us expert advise at every step of the way. I highly recommend Joey for both the sale and purchase of your home.
zuser20151001122141605
October 24, 2017.
Verified
Joey was very experienced, knowledgeable, professional and caring. He always was on time in returning calls and meeting on time. He delivered his promise. It was a pleasure to work with him.
elenor taylor
May 26, 2017.
Verified
Joey was responsive and attentive during the entire process. He was flexible in working around our schedules to view properties, he listened to and understood what we were looking for, and he was very familiar with the local housing market. He communicated regularly during our search, the purchasing process, and escrow. He also was extremely helpful in finalizing details at the close of escrow and with preparations for moving in.